Wireless Remote Solutions for farming and forestry
---

Quite a go farming have turned into a highly mechanized activity way far from what once was: adopting machinery, collecting data…
Update this data or control these machines is not always easy: it could require complex and expensive wire connections.
Our wireless devices are specially made to avoid these problems, since they are operated via radio there is no need of cable connection. Distant points as far as 20 kms from each other can transmit data and orders instantly. Machinery can also be commanded remotely with Itowa's pushbuttons or joysticks transmitters.
The most used telematics applications in farming are water resources control or lighting, since often water tanks or wells are situated quite far from where water is needed or lighting is centralized in a distant point. Via radio you can activate pumps, switch on light… without relocations or wire.

While the most used radio remote control applications are those for forestry winches, timber haulage & chippers, fork lifts and, of course, tractor (and its complements) control.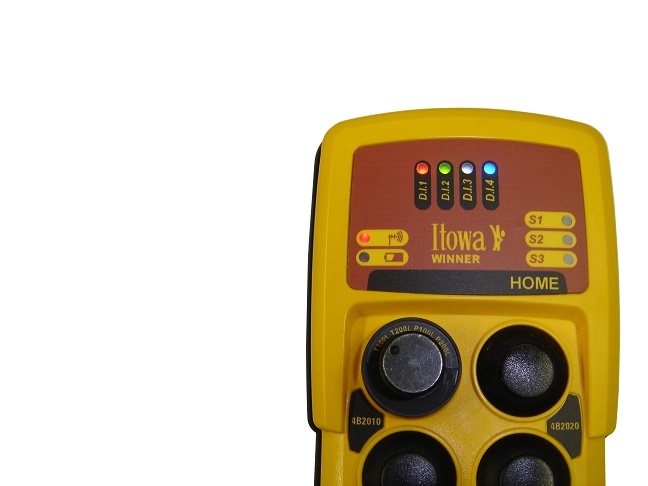 Almost any kind of electro-mechanic or electro-hydraulic machine is susceptible to be remotely managed making it safer thanks to Itowa's RRC devices. So do not hesitate to contact us for further information.
More information and other products itowa
Case studio: how to RR control 8 silos
Recently we have installed a pushbutton RRC and its receiver in a farm close to our home town. Its main purpose was to facilitate a tractor operator deliver grain from the silo to the farm. In order to load the trailer, he had to drive it close to the silo and then step out of the tractor and, walk to the silos' control and activate the silo's unloading. It took a lot of time and the inconvenience of step in/step out of the tractor. Controlling it via radio let him afford time and, of course, more comfort. The wireless solution was simple: a Winner RRC device with 8 rotating selectors that allowed him to know which silos where selected and a pushbutton to active the grain unloading. This Winner had the particularity that it was Data Feedback: it switches on a Led every time a silo is approaching low level storage. Thus the operator has the notification in its hands.